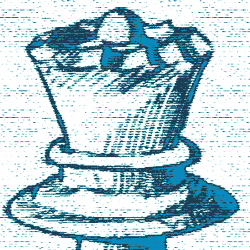 The Queens, more often than not, don't survive into the latter stages. Usually one player or the other will find it advantageous to force a trade. But it's by no means rare to see the Queens on the board for the conclusion.
The Queen's duties will depend on the other actors and how the position has panned out. She may be called into defensive duty to hold up the progress of an advanced pawn.


She may be in attack as part of a mating net. Or she could be up against an enemy Queen with some pawns involved. Sometimes you will see a Queen vs Rook or Queen vs two Rooks ending.
Sometimes a Queen will have to slug it out with a number of minor pieces. Endings such as these are always finely balanced with one powerful figure up against weaker foes who have, however, an advantage in numbers.